Museum of A.W. Olomoucke Tvaruzky
Museum of A.W. Olomoucke Tvaruzky
Palackého 2, Loštice
Reception desk: 583 401 217
E-mail: awmuzeum(at)tvaruzky.cz
facebook
Opening hours
Daily 9am – 5.30pm
Museum tour
Tours last: about 60 minutes
Max number of people per group: 65
Last group tour: at 4pm
Recommended last tour for individuals is at 4.30pm.
Basic entrance fee

CZK 50

Reduced entrance fee: children 6 – 15 years

CZK 30

Reduced entrance fee: students up to 26 years

(after submitting the ISIC card)

CZK 30

Reduced entrance fee: elderly people from the age 65

(after submmitting an ID or passport)

CZK 30

Families

(1 or 2 adults + max 4 children up to 15 years)

CZK 90

Children up to 6 years, disabled people, holders of Olomouc Region Card, A.W. guests

Free
System of reservations
Booking mainly aims at larger groups of 15 people or more, but is also possible for single individuals.
You can make your reservation here:
Tickets need to be kept – they are used for both entrance and exit!
Each visitor will obtain a ticket with bar code, which they will use at the entrance and exit (group visitors also). This is as the ticket is used to check the number of visitors in the museum so that the maximum number of people, which is 65, is not exceeded due to safety.
The ticket is not a tax document. Tax documents are issued upon request.
Tours in foreign languages are possible, using texts written in English or German.
The museum participates in the Olomouc Region Card project. Holders of this card have free entrance. For more information, see www.olomoucregioncard.cz
Tourist stamp
You can buy the Tourist stamp No. 977 in the Museum of Olomoucke Tvaruzky (as well as in the A.W. company store on náměstí Míru 11).
Museum of A.W. Olomoucke Tvaruzky
The museum of Olomouc tvaruzky, opened in 1994 and situated in the premises where the production originally began, significantly contributed to promotion of this unique product. Its location inside a plant limited its development, however. Consequently, a decision was arrived at to build a new museum, whose construction began in 2013.
The New Museum of Olomouc tvaruzky, ceremonially opened on June 26th 2014, presents a historical overview of this product since its very beginnings up to the present day in its modern expositions. All exhibits are provided with commentaries in Czech. Besides, using QR technology, basic information can be obtained also in German and English. Visitors from abroad have materials printed in English and German at their disposal.
Part of the whole area is also a small yard which, along with the space at the entrance, provides complementary events throughout the year, such as expositions, concert and social events.
Visitors enter former stables, where they begin their Big Story about the history of Olomouc tvaruzky and the house of Wessels. It starts with first mentions of production of Olomouc cheese and related photographs. Then it follows the line of production from processing of curds, through moulding and dipping, to packing, including a functional box churning machine.
What also makes the Big Story unique is the demonstration of the period when manual production transformed into machine production, started by Alois Wessels's son-in-law, Karel Pivny. The lives of each individual show the beginnings of Olomouc tvaruzky over the period before the First World War, when the Wessels house became the largest producers of Olomouc cheese.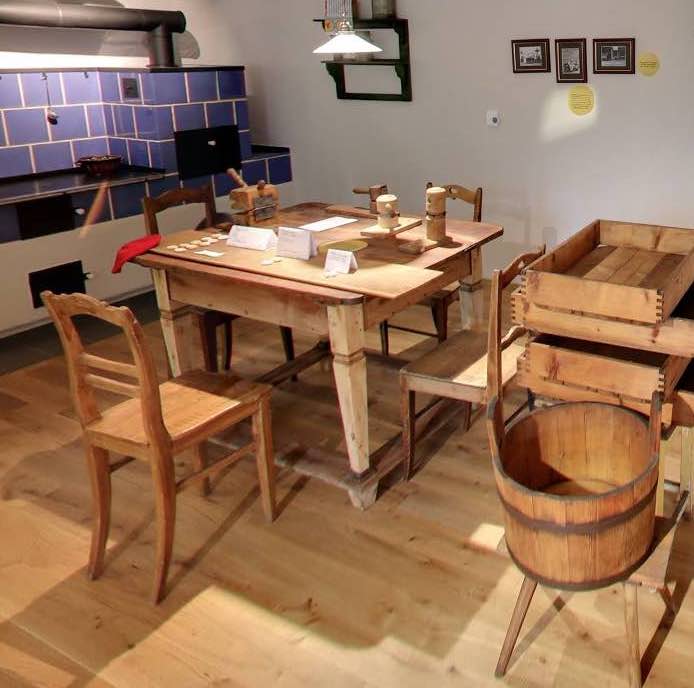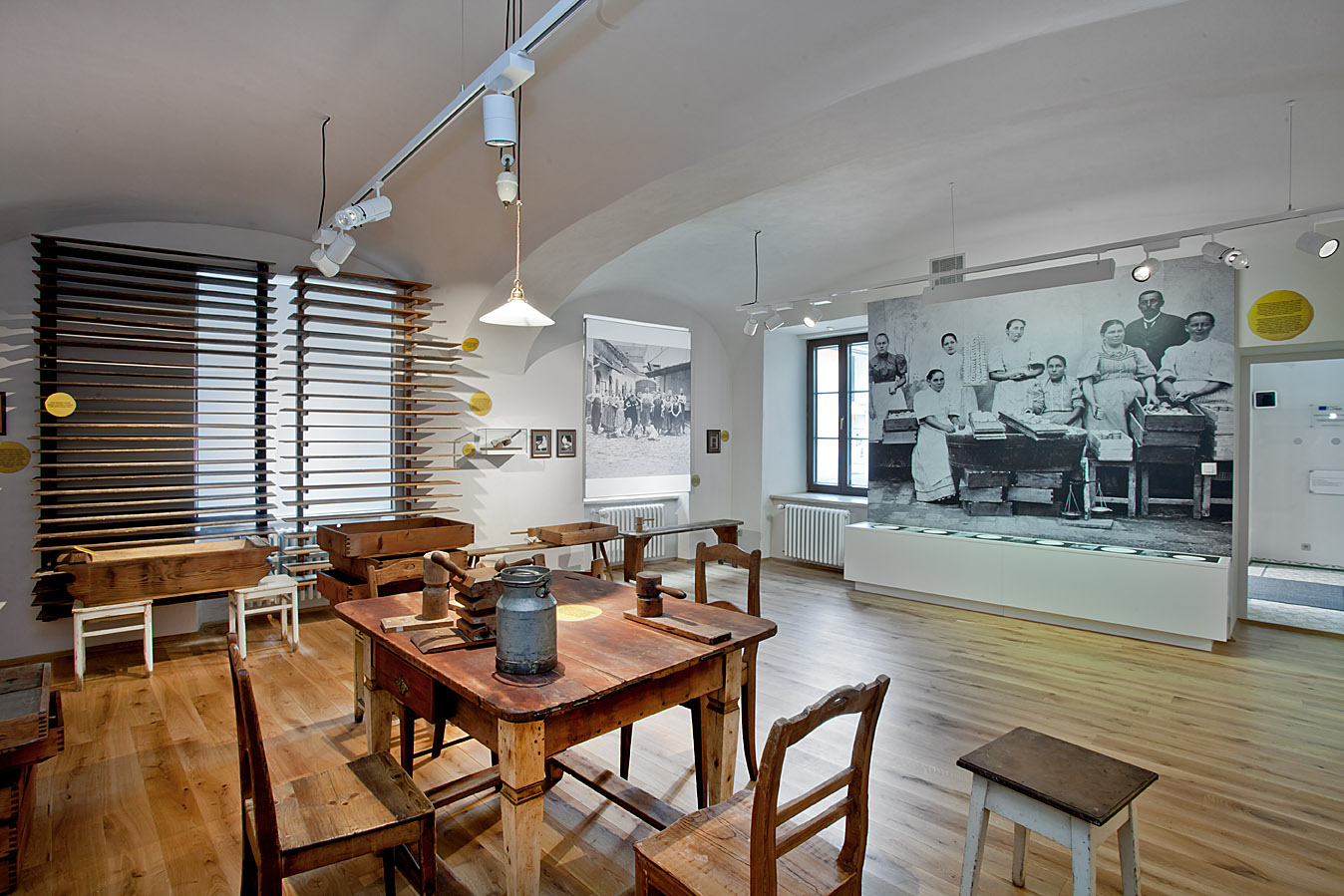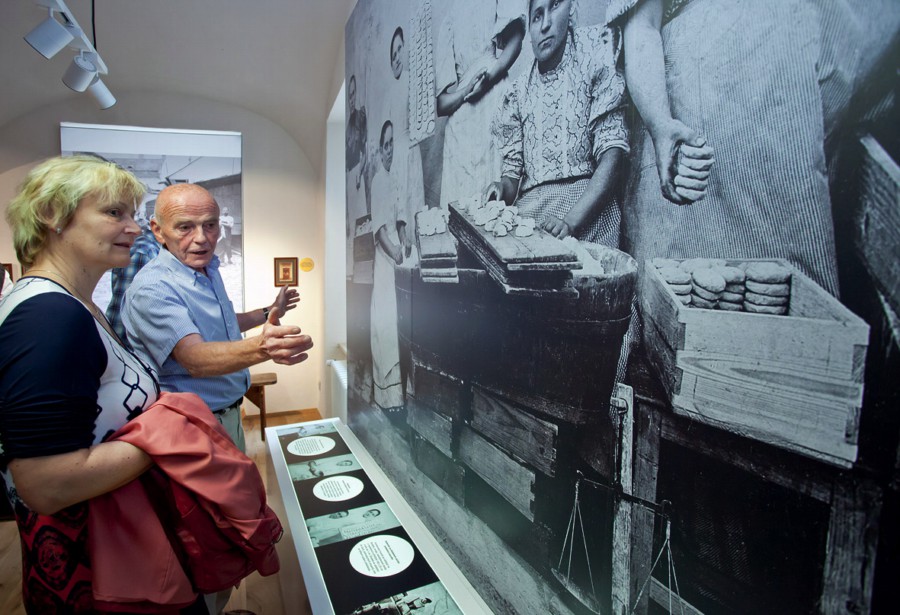 The second floor is introduced by Karel Pivny's original office, followed by Lostice cinema in retro style, where films about production and history of Olomouc tvaruzky are projected. The next room shows original exhibits of moulding and dipping machine from the 20th century. This is where the history of the Olomouc cheese from Lostice is summarised on a timeline, finishing with the period of socialisation and current production. This is the topic of a single room which leads to the gallery of photographs showing the transformation of the factory since the restitution in 1990.
Those visitors who might be interested in facts not mentioned in the audio-visual programmes can make use of the information points, equipped with PCs with the Panorama software, in which more detailed information can be looked up.
The last room serves as a goodbye to visitors, who then enter the shop of A. W. company. The museum provides wheelchair access, and individual tours are an option tailored to the visitors' interest and time possibilities.
According to one's interest, the tours last about an hour.
Where to find the Museum?
Museum of A.W. Olomoucke Tvaruzky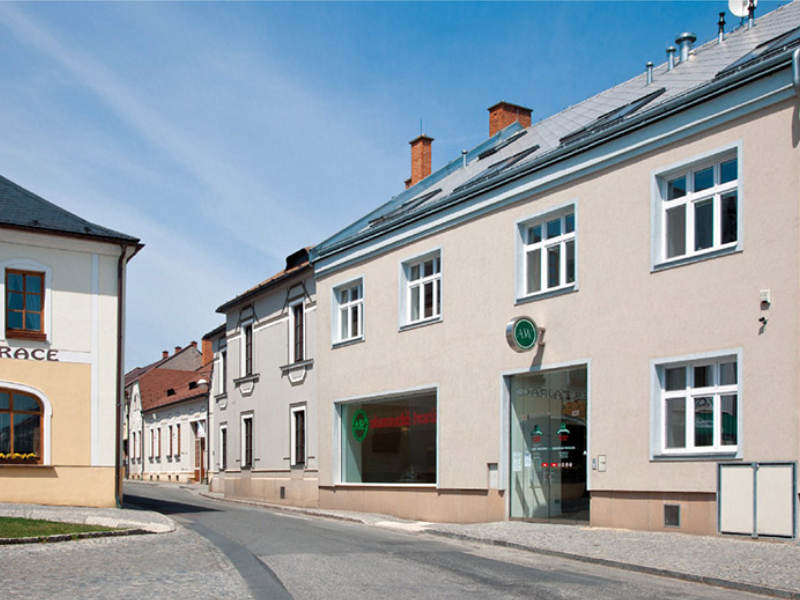 Company store in Loštice
náměstí Míru 11, Loštice
Phone:
583 401 220
A. W. company store opening hours
Monday – Friday
7.00 – 18.00
Saturday
8.00 – 18.00
Sunday
10.00 – 18.00
Detail store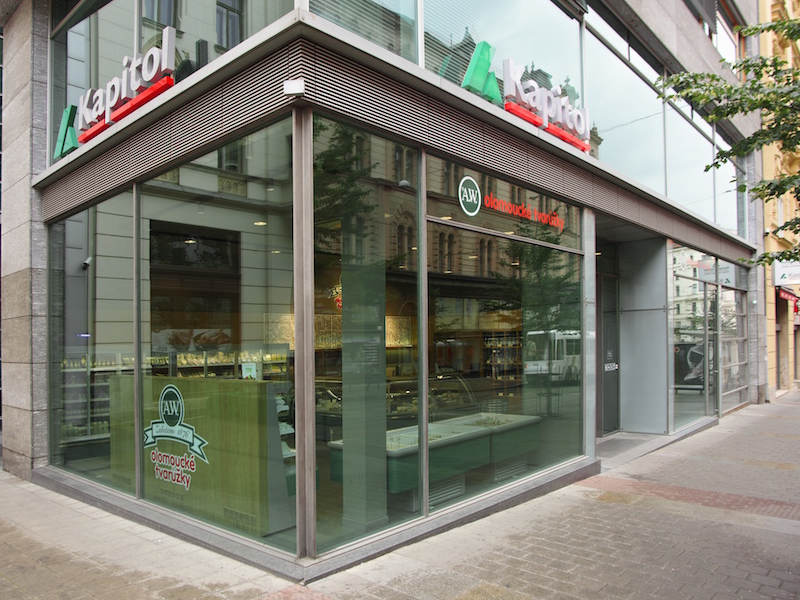 Company store in Brno
Rašínova 4, Brno
Phone:
539 011 445
Opening hours
Monday – Friday: 08.30 – 18.30
Saturday: 08.30 – 13.30
Sunday: closed
Detail shop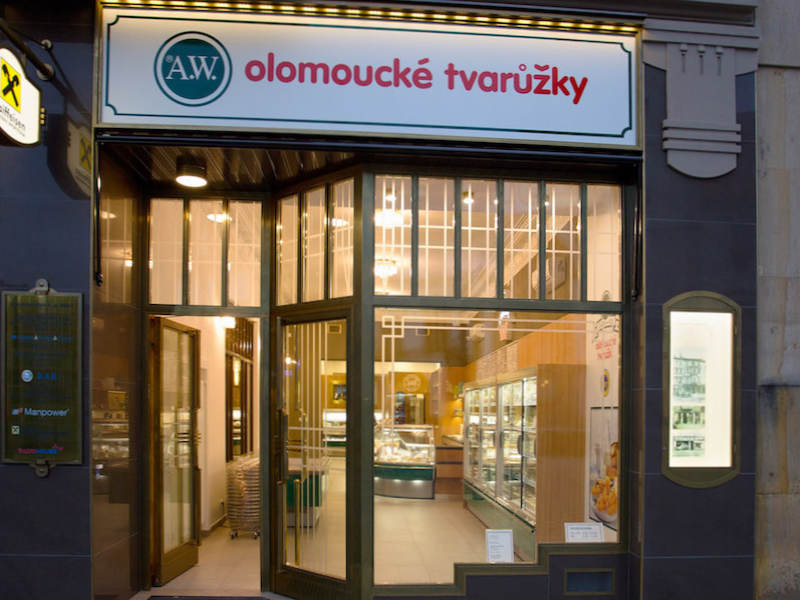 Company store in Olomouc
Horní nám. 7, Olomouc
Phone:
585 202 551
Opening hours
Monday – Friday: 08.30 – 18.00
Saturday: 08.30 – 12.30
Sunday: closed
Detail shop
Specialized stores, retail networks and wholesalers
Are our Olomouc curd cheese stores far from your home?
Try to visit any of the specialized stores.
You can also find the Olomouc curd cheese in many retail chains and wholesalers.
Offer of the Olomouc curd cheese