15th–16th cnt. Production of Olomoucke tvaruzky as a kind of rustic cheese was documented in the geographical area of Haná already at the turn of the 16th century.

1876–1917

Olomoucke tvaruzky have been made on the premises of today's A. W. spol. s r. o. in Loštice since 1876. The original manufacturing was initiated by Josef Wessels along with his wife. In 1897 the business was taken over by their son Alois Wessels (hence the name of today's company A. W.) who bought his own house and modified the court wing at Palackého 4 for the needs of the expanding tvaruzky factory. Production quickly expanded. In 1912, the company already had 36 employees and by WWI A.W. became the largest producer of tvaruzky.

1917–1948

In 1917, the parent company A. W. was taken over by Karel Pivný – Alois Wessels' brother-in-law – who performed some minor repairs around 1920 and reconstruction and expansion of the tvaruzky factory in 1930 in the spirit of modern industrial architecture, including an ornamental garden.New facilities were created in response to machine technology in which Karel Pivný was the pioneer. In 1924, he started with molding machines and these were followed by more and more machines and equipment. As a state-of-the-art cheese factory at the time, it was operated by the Pivny couple until 1948.

1948–1990

After nationalization, the tvaruzky factory gradually became part of several national and state companies. Compared to the situation before 1945, export dropped to very little in the 1950s, the number of market kinds of tvaruzky was reduced to round shapes and tvaruzky bits, i.e. pieces. Production of tvaruzky was experiencing a decline in the long term, with almost no funds being invested in technology and particularly in the tvaruzky factory facilities.

after 1990

As of 1 January 1991, the tvaruzky factory was returned to the families of its original owners as part of the restitution process. Production with 25 experienced employees, some of whom had even worked for Karel Pivný, began immediately. The task which lay ahead for this newly established company was to maintain traditional production in the environment of an emerging market economy and, at the same time, to convert the destroyed property in order for it to succeed in a competitive way on the European market.An important milestone was the year of 1997 when a fundamental change happened to technological equipment. Instead of obsolete molding machines, an automatic molding line with twice the capacity was installed and wooden boards (so-called shingles) were replaced by stainless steel maturation grates. This way, the production of Olomoucke tvaruzky reached a level that represents the current world standard in terms of hygiene and machinery.

With increasing production, also came the need to recruit more employees. The company currently employs around 130 people, mainly from Loštice and the surrounding areas.

The fundamental and only product range is Olomoucke tvaruzky – the only original Czech cheese. It is produced in more than thirty different quark and weight versions. Olomoucke tvaruzky are, however, also a very suitable and desired ingredient for other products, e.g. spread and cream tvaruzky cheeses, tvaruzky spreads and many other delicacies produced by a number of Czech and Slovak producers.

In 2010, the unique properties of Olomoucke tvaruzky received high recognition by the European Commission by being granted a protected geographical label.
Quark storage in 1991 and 2006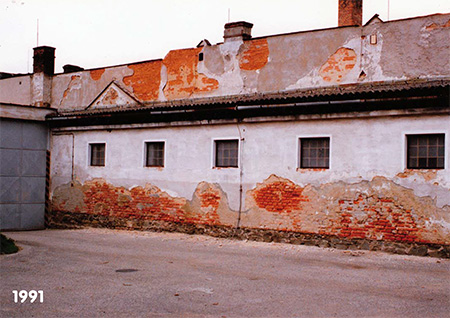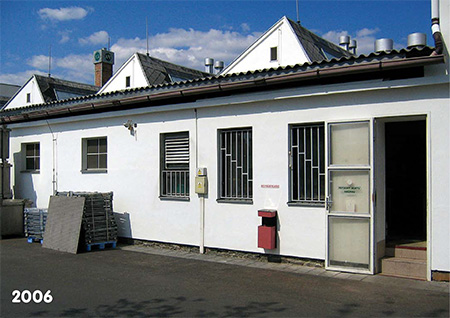 Courtyard in 1996 and 2006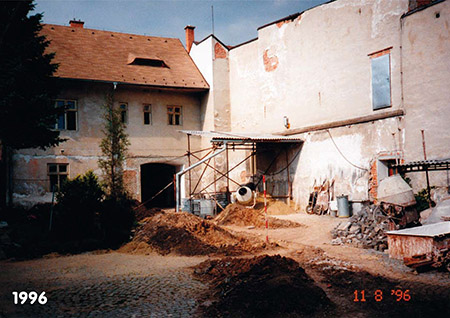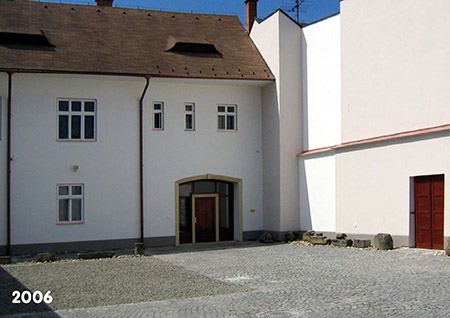 Courtyard in 1991 and 2006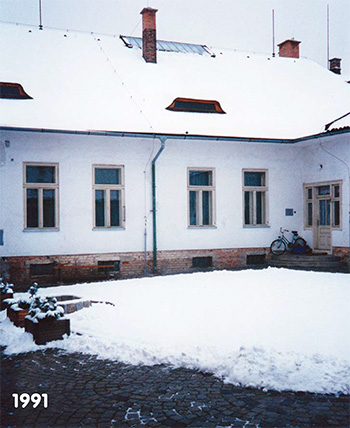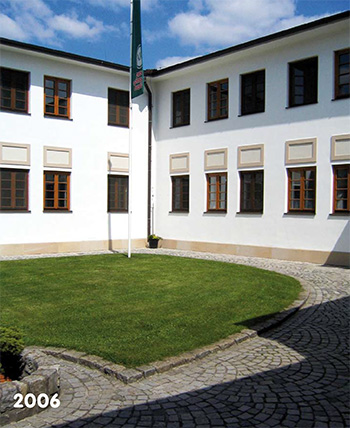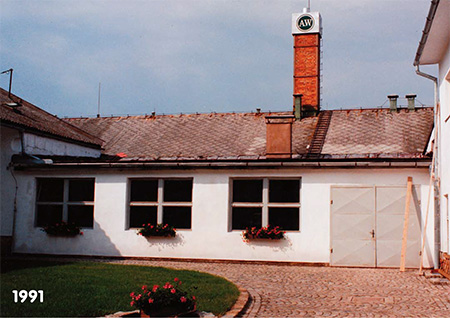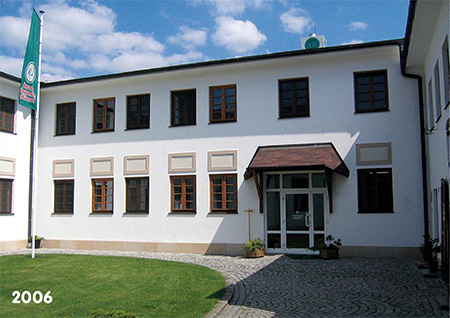 Company offices in 1991 and 2006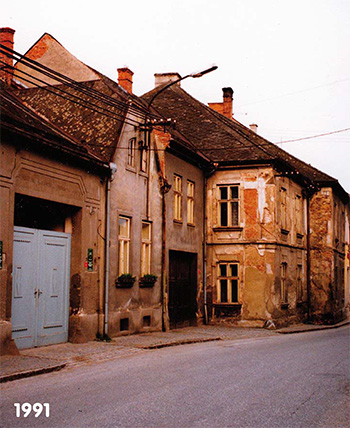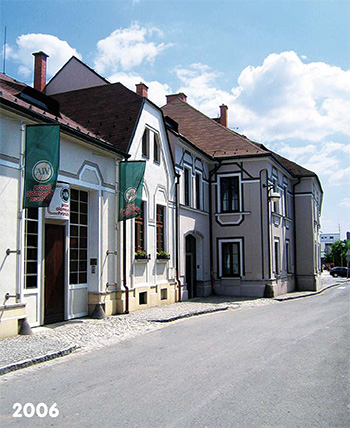 Shipping warehouse in 1996 and 2006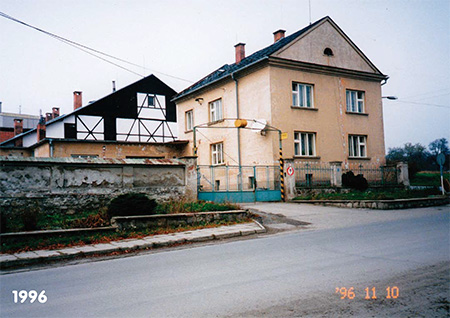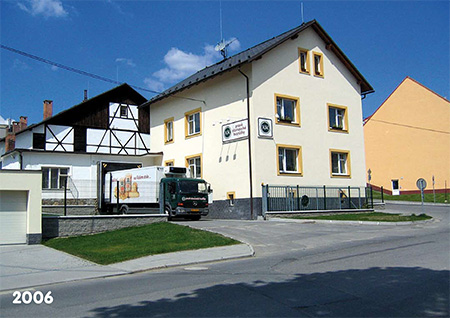 Loading gate in 1991 and 2006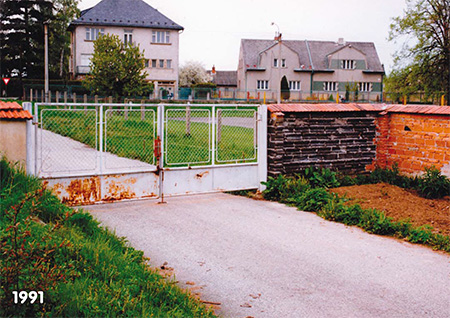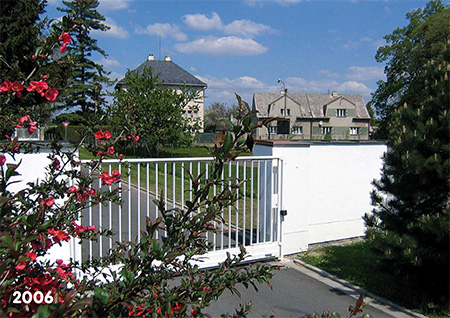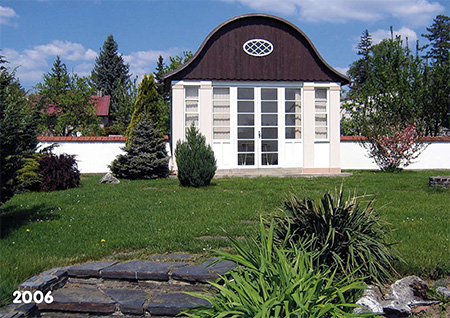 Delivery ramp in 1991 and 2006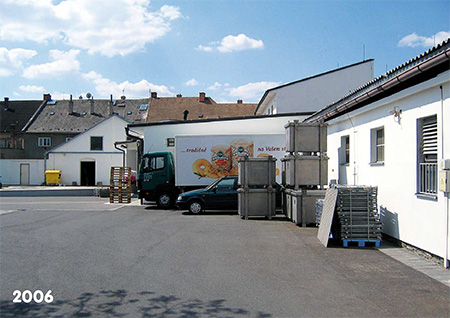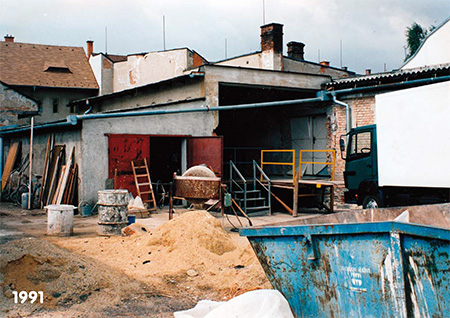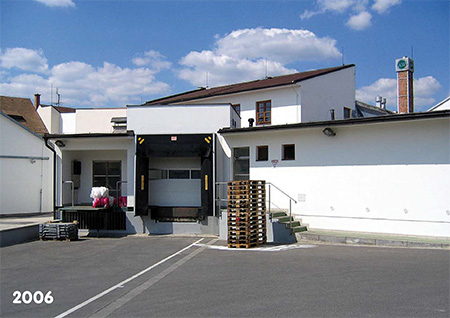 Company employees in 1936 and 2001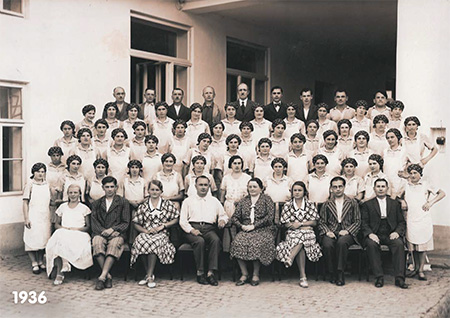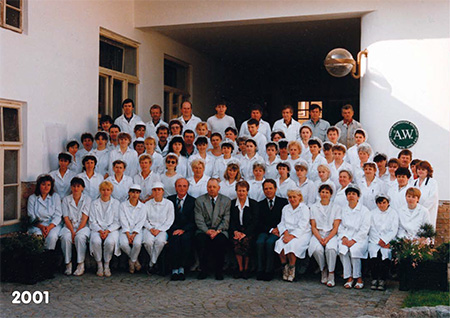 Palackého street in 1991 and 2006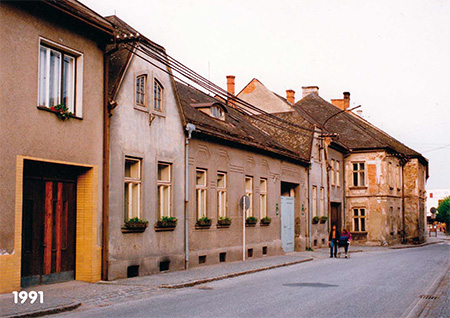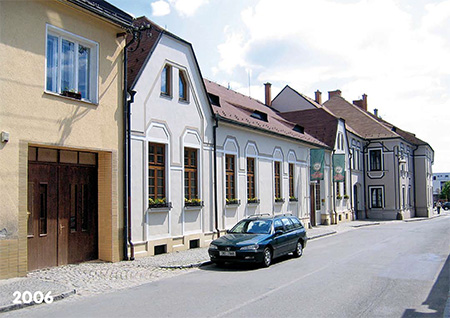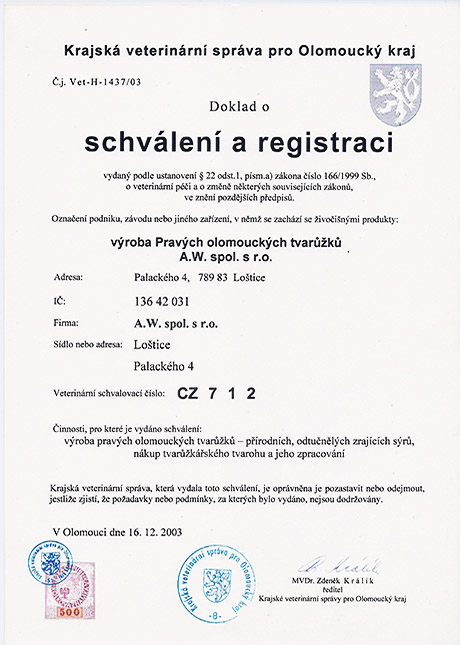 Approval and registration – Palacky street 4, 789 83 Loštice, Czech Republic
Approval and registration Hradská 80, Loštice CZ 10471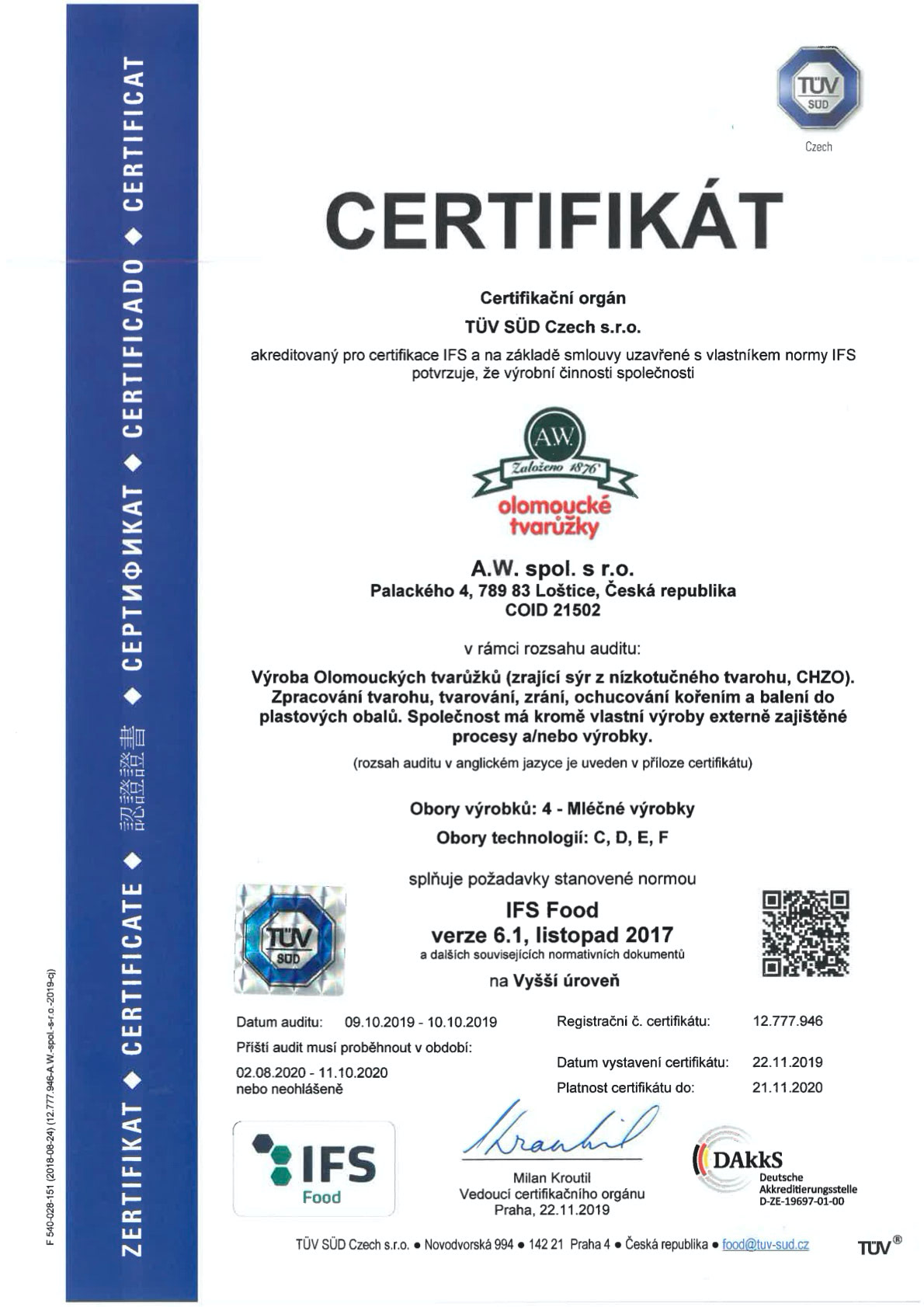 Approval and registration – Palacky street 4, 789 83 Loštice, Czech Republic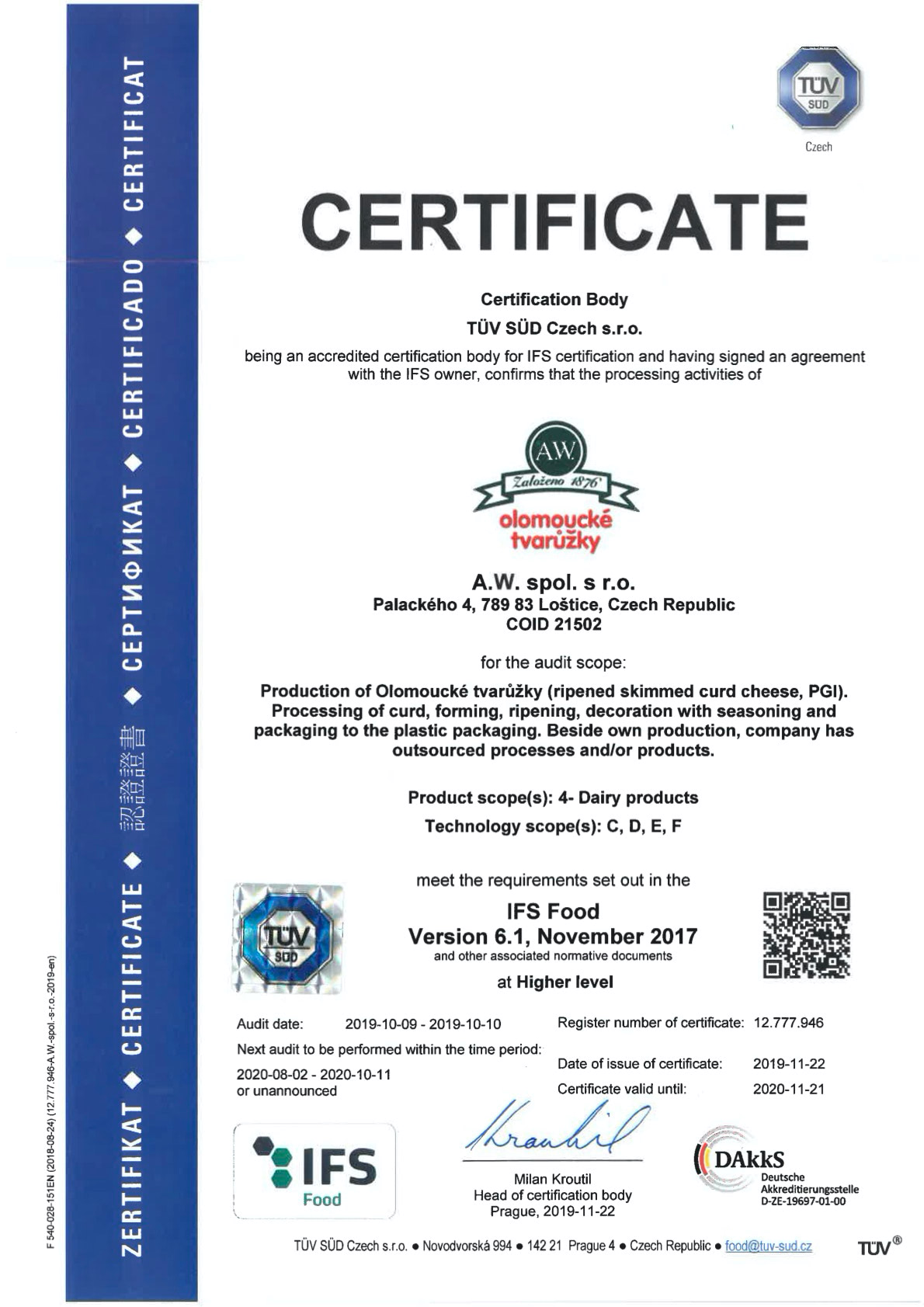 Approval and registration – Palacky street 4, 789 83 Loštice, Czech Republic in English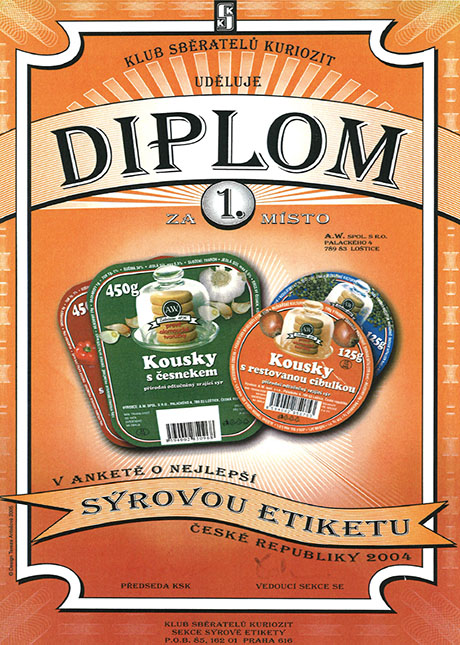 Awards in the opinion poll for the best cheese label in 2004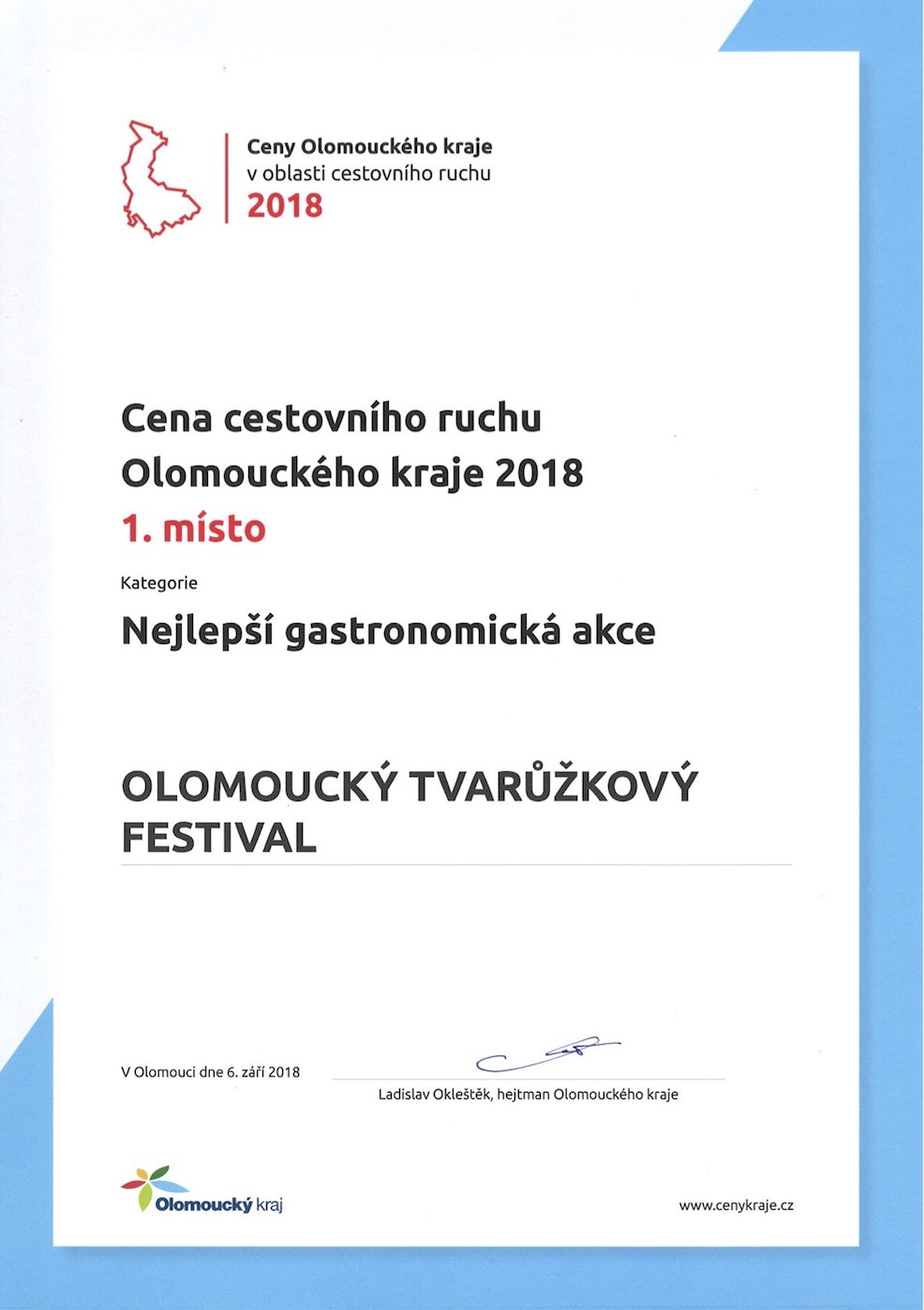 1st place winner at the Olomouc tvaruzky festival in the category of Best Gastronomic Event of the Olomouc Region in 2018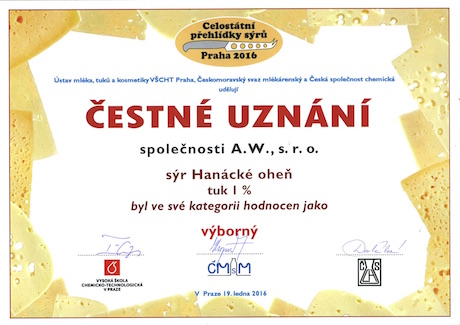 Honourable Mention from the National Cheese Show 2016
The project titled "Training of employees and introduction of HRM in the company A. W. spol. s r. o. ", with the registration number CZ.1.04 / 1 Jan. 02 / 35.01483, was realized in the period from 01. 12. 2010 till 30. 11. 2012. During this time period all planned project activities were realized and the planned project objectives were achieved.
As many as 142 employees of the company A. W. spol. s r. o. were involved in the project; they participated in the seminars focused on corporate communication and customer communication, IT skills, language skills and professional competence. The aim of the project was long-term and effective education of the employees so that their knowledge, skills and competence may contribute to their development and also to development of the whole company in the long-term horizon.
Education was running in conformity with the schedule and all monitoring indicators defined in the project have been met. During the seminars not only the skill and knowledge of the involved participants was increased, but also their adaptability to their current job as well as within the labour market. This successful project could be attended by employees of the company A. W. spol. s r. o. thanks to the funds granted by the European Social Fund through the Operational Programme Human Resources and Employment and the state budget of the Czech Republic.

Museum of A.W. Olomoucke Tvaruzky
Museum of A.W. Olomoucke Tvaruzky
Palackého 2
789 83 Loštice
Opening hours
Daily: 9am-5.30pm
Reception desk
Phone: 583 401 217
e-mail: awmuzeum(at)tvaruzky.cz
Museum of A.W. Olomoucke Tvaruzky
Opening hours
Daily: 9.00 – 17.30 hod.
tel.: 583 401 217
e-mail: awmuzeum(at)tvaruzky.cz
We look forward to your visit
Museum of Olomoucke tvaruzky A. W.